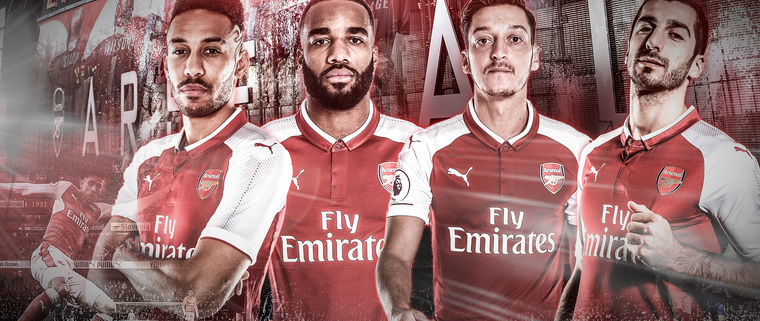 Kaum ist das Transferfenster vorbei, steht Theo im Emirates wieder in der Startelf – eben nur nicht bei uns. Von vielen Arsenal-Fans quasi vom Hof gejagt, hat Arsenal ihn ja an Everton verkauft. Guter Verein für ihn. Da kann er zum ´Go-To-Guy´ werden und wieder groß rauskkommen. So wie Mittwoch vielleicht. Wenn der mal länger verletzungsfrei bleibt, kann er richtig aus dem Knick kommen, wenn er Selbstvertrauen hat. Bei Arsenal hatte er so 1,5 Jahre bis zu seinem Kreinzbandriss Anfang 2014 (danach kam er eigentlich nie wieder richtig in Fahrt bei uns), wo er größtenteils fit war und mitunter aufgespielt hat, als wäre er der legitime Nachfolger von Thierry Henry. Das war groß. Und er hat sehr gut mit Olivier Giroud harmoniert – und der ist jetzt ebenso weg (beide Arsenal-Centurions btw). Schnüff ..
Auch OG wurde von vielen eigenen ´Fans´ niedergemacht, er war ja kein Henry oder Aguero, Lewandowski, Aubameyang, Kane, Ibra etc. pp. (´die haben Superstürmer XY und wir haben bloß Giroud´). Was haben die Fifa-Experten immer gewußt, daß man doch unbedingt Lacazette stattdessen holen sollte, der kann wenigstens Tore und so. Jetzt ist der da, muß aber wieder weg, weil kann doch nix. Witzigerweise ist die Beliebtheit von Giroud in den letzten Jahren stetig gestiegen, je weniger er gespielt hat. Und sein Lied kann jeder mitsingen (und auch das wird fehlen ..). OG war klasse, keine Frage (nicht immer, aber oft genug ..), aber er hat unser Spiel auch gerne etwas statisch gemacht und ganz offensichtlich versucht Arsenal jetzt einen neuen Weg zu gehen.
Ohne Frage wird Giroud einen Heldenempfang bekommen, wenn er wieder im Emirates aufläuft, ärgerlich nur, daß das im Trikot von Chelsea sein wird. Kleine Anekdote dazu: ich war beim CL-Spiel gegen Juve, wo Patrick Vieira das erste Mal nach seinem Abgang wieder in Highbury auftauchte. Das ganze Stadion hat PV minutenlang vor dem Anpfiff gefeiert, der war gerührt, alle Italiener kamen bei ihm angelaufen und klopften ihm anerkennend auf die Schulter, dann ging das Spiel los – und er wurde hemmungslos ausgepfiffen …
Those were the days – das war im Frühjahr 2006, Arsenal zog ohne Gegentor in CL-Finale ein, in der Liga sah es aber ähnlich dürftig aus wie jetzt (und nur dank ein bischen Lasagne wurde man am Ende 4.). Aus dem Grund war Arsenal im Januar ´06 auch außergewöhnlich aktiv auf dem Transfermarkt und holte fünf Spieler, die bekanntesten waren Walcott, Adebayor und Diaby. Mit denen sollte und wurde der Umbruch weg von dem Invincibles-Team weiter fortgesetzt. Klappte so lala …
Jetzt war Arsenal wieder gut aktiv und ein neuerlicher Umbruch deutet sich an. Endlich, möchte man sagen. Gestern hat AW übrigens zugegeben, daß es ein Fehler war, Sanchez nicht schon im Sommer verkauft zu haben. ´Unhappy person in the squad´ und so. Aber man wollte kein ´selling club´ sein und hart sein. Vor dem Hintergrund ist diese Saga noch sehr positiv für uns ausgelaufen, denn mit Mkhitaryan haben wir jetzt dafür einen Spieler am Start, der theoretisch großartig zu Arsenal passt. Dem man dann praktisch noch seinen ehemals besten Mitspieler ins Team geholt hat, auch wenn es harte Opfer gekostet hat (OG an die Russen).
So ist plötzlich Pierre-Emerick Aubameyang ein Arsenal-Spieler. Passt theoretisch auch sehr gut. Er wäre dann der aktuelle ´neue Henry´. Wenn er sich schnell in der PL zurechtfindet, könnte das ein großer Spaß werden. Überall wird der Transfer gefeiert, hier bei uns ist die Reaktion sehr gemischt bis verhalten. Im Zweifelsfall mag man den Spieler nicht, aus welchen Gründen auch immer. Oldschooler bemängeln den ´posterboy´, andere sehen ihn als Diva, viele stören sich an seinem Verhalten. Macht man ja nicht, so an seinem Transfer zu arbeiten. Aber was haben denn z.B. die Herren Fabregas, van P., Adebayor, Hleb, Henry oder Vieira gemacht? bis zum richtigen Streik war alles dabei.
Ist ein bischen wie beim Transfer von Jens Lehmann damals – bei Arsenal Germany waren viele ´not amused´, er war ja schließlich ein Idiot , Dortmunder, wasauchimmer. Wie sagte damals ein englisches Mitglied von uns: ´Ridiculous. He´s an Arsenal player now, stop it!´ yepp, so sieht es aus: PEA mag vielleicht ein Arsch sein, aber ab jetzt ist er unser Arsch. BASTA!
Yo, heute ist Premiere. Gegen Theo und Everton. Deren Trainer ist Sam Allardyce. Vor einem Jahr war er noch bei Palace und erklärte die Glattrasur gegen Arsenal sinngemäß so: ´They´re defensively weak. Let them go forward, catch them on the break, put the ball behind the fullbacks and they will struggle´ – hat dort geklappt und auch Swansea letztens hatte das auf dem Zettel. Jetzt hat Allardyce Theo Walcott da rumstehen, der nur drauf wartet, unserer Abwehr davonzulaufen. Das konnten schon viele, da wird Theo womöglich …
Ergo, wir müssen besser verteidigen. Blueprint: das 2-1 gegen Chelsea. Also, Viererkette ist ein Muß, davor dann zwingend Elneny als 6er, der ggf. hinten in eine 3er-Kette einrücken kann. Neben Elneny dann Jack (man hat deutlich gesehen, wie er in Wales gefehlt hat), davor in der offensiven Variante LMAO. Nächtste Woche in Wembley dann aber AMN auf die Doppel-6, Jack einen Tick weiter nach vorne schieben, dafür Lacazette raus. So könnte Struktur reinkommen – und Xhaka sollte erstmal vom Spielfeld ferngehalten werden.
Insgesamt ist der Plan wohl, daß Arsenal wieder etwas mehr Spielfluß und Geschwindigkeit ins Spiel kriegt, also weg von dem endlos dösigen Schlafwagenfußball wie zuletzt in Swansea. So wie früher quasi … ach, möge die Macht doch mit ihnen sein …
Der Neue in Dortmund hat ja mal gut vorlegt (kann übrigens irgendjemand erklären, wieso Chelsea/Conte den nicht will?), da müssen OG PEA erstmal nachlegen.
Yo Pierre, wanna put the ball in the net here?
GET IN
Up the Arse!
He´s got lovely hair
He´s got lovely haaaaiiiiiiiirrrr
Fuck Atom and Humber
´Cos we´ve got Pierre
http://www.arsenalfc.de/wp-content/uploads/2018/02/lmao.jpg
482
760
db10
http://www.arsenalfc.de/wp-content/uploads/2014/06/hp-n1-1030x307.png
db10
2018-02-03 11:04:13
2018-02-03 12:40:55
GET IN !