Länderspielpausen sind doof! Für alle daher ein kleiner Rückblick "in the merry month of may"! …
Der Ramazzotti am Abend des gewonnenen Halbfinales war schuld, definitiv! Vielleicht spielte aber auch der Besuch des Matches gegen West Ham im Frühjahr mit hinein, dieses Dolce Vita "mitten" im Viertel zu erleben, wer weiß!? Da die Preise einer bekannten orangefarbenen Billigfluglinie an jenem Tag, zu fortgeschrittener Stund immer mehr mit der Unermesslichkeit kokettierten, vermutlich parallel zu unseren Promillezahlen, wurde um Mitternacht einfach mal auf ENTER gedrückt um dann am nächsten Morgen, leicht verkatert festzustellen, ooooh, wir fahren zum FA – Cup Finale nach London, cool! Nur wer war noch mal derjenige von uns Beiden, der sich für das Organisieren der Karten bereit erklärt hatte?
Natürlich war es nahezu unmöglich an die Tickets zu kommen, nahezu bedeutet in dem Zusammenhang aber eher aussichtslos für uns, nicht für diejenigen, die bereit waren, über 700 € in den berühmt, berüchtigten Ticketbörsen im Internet zu investieren! Die Idee es als verkleideter Sanitäter, Feuerwehrmann, Polizist oder Mitglied des deutschen Außenministeriums ins Stadion zu schaffen, wurde ebenfalls verworfen. Public Viewing im EMIRATES also! Nun ja, nicht, dass das Begeisterungsstürme hervorgerufen hätte! Immerhin übte die Voraussicht wenigstens vor Ort ein bisschen dabei zu sein, aber auch wieder so viel Einfluss aus, als dass es dann nicht doch noch vor dem Stadion in irgendeinem Pub endete, aussichtslos auf den Schwarzmarkt hoffend!
Wie verbringt man nun also einen Tag in London, ohne eine Karte für das große Finale ergattert zu haben? Man besucht DEN Platz, bei dem man am ehesten annimmt, dass sich dort die Menschenmassen sammeln & das zelebrieren, was man ansonsten nur von den Berichten & Fotos aus einschlägigen 80er Jahren FussballBlogs kennt! Also Piccadilly Circus ausgestiegen, ist auch nicht mehr das, was es mal war, mir deucht sogar, dass es auf dem Platz nicht einen einzigen Londoner mehr gibt & einen kleinen Spaziergang durchs Westend gemacht, es könnte ja doch noch jemand Schwarzmarktkarten … nein, leider nicht! Wir biegen wenig später also auf den Traffalgar Square ein, auf alles vorbereitet und … UND … nix! Kein einziger der verwegenen Schlachtenbummler aus Birmingham, der sich voller Inbrunst mit nacktem Oberkörper in einen der anwesenden Springbrunnen erleichtert, kein Gooner, der bereit ist den Horden aus dem Norden zu trotzen & alles an Nordlondoner Stolz entgegen zu singen ,… nix, wirklich gar nix! Demonstrationen gab es einige, na ja, einige mehr als man an diesem Tag hier vermuten würde, aber auch mit viel Aussagekraft über die Größe dieser Metropole London & die Stellenwerte & Hierarchien! PVG meinte lakonisch, hier sehe man erst die Dimension dieser Stadt & der Größenordnung dieses Finals gegenüber z.B. Berlin, in der zeitgleich das dt. Pokalendspiel stattfand & wo Feier- oder Fanmeilen auf der Tagesordnung stehen! Hier bemerkte man außer in den Bereichen nördlich der Oxford Street überhaupt nix von dem bevorstehenden Ereignis!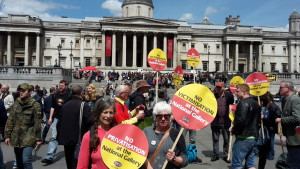 Wer bei seinem nächsten Spielbesuch in London, etwas Zeit & Interesse mitbringen sollte, der Weg mit dem Bus von Hampstead über Highgate ist äußerst empfehlenswert! Wie auf einer Zeitreise durchquert man kleine, heute eingesogene Dörfer bis dann kurz hinter Highgate, auf dem Weg hinunter Richtung Themse, das Stadion langsam auftaucht, ähnlich einer gelandeten fliegenden Untertasse inmitten typischer Reihenhausviertel, fast schon fremd, unterstützt nur durch die Silhouetten der neuen City im Hintergrund! Ein großartiger Moment!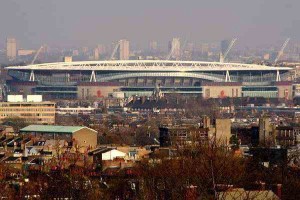 Minuten später hatte uns der Geist des Finales mit alle seiner Macht erfasst! An den Fenstern Arsenal Devotionalien, gefühlt jeder Zweite gekleidet in den Farben dieses EINEN Vereins, Menschen aller Hautfarben Richtung Stadion eilend, Trauben vor den Pubs & immer noch mehr Fans!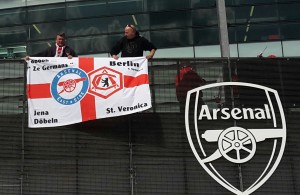 Im Stadion sind 27.000 Gooner, nicht die üblichen Verdächtigen! Jungs führen ihre Mädchen aus, Familien, aber auch Cliquen, Gangmitglieder, ein Klientel das sonst nur ab & an im Stadion anzutreffen ist! Die Atmosphäre ist äußerst entspannt, man darf sein Bier mit auf den Platz nehmen, etwas an das man sich erst gewöhnen muss, das Areal ist weitläufig geplant, es gibt insgesamt vier Screens & was das schönste ist, es ist in England & das bedeutet auch, dass getrunken wird, als gebe es kein Morgen. Es gibt einen Flitzer, die Security hat in der North Bank zu tun, um zwei verfeindete Gruppen bei ihren Revierkämpfen zu trennen, bei den Toren fliegt auch mal ein Bierbecher & die darauffolgenden Auseinandersetzungen waren so vom Verein sicher nicht eingeplant! Wie meinte PVG, schon wieder, so treffend "das passiert halt wenn man die "normalen" Leute wieder ins Stadion lässt!


Zum Spiel ist, bei allem Respekt Villa gegenüber, nicht viel zu erzählen, das 4 – 0 hab ich ehrlich gesagt, noch nicht mal mitbekommen, zu faszinierend die Pitch Invasion von vielleicht Dreiviertel aller im Stadion Anwender! Pitch Invasion beim Public Viewing! Die Leute gebärdeten sich außer Rand & Band, es wird wild gejubelt, herum geschrien, gesprungen & herum gerannt, völlige Ekstase! Es war unglaublich faszinieren zu zuschauen wie Polonaisen zelebriert wurden, Dutzende Leute völlig ekstatisch einem Fußball hinter jagten oder jeden Ansatz des Versuches eines Selfie sprengten, Absperrungen empor kletterten & herumtollten wie kleine Kinder, ähnlich einer Befreiung vom Joch aller Regeln die sie täglich schikanierten! Ich will das gerne noch mal betonen, das war nicht gesteuert, gewünscht oder unter Kontrolle & vielleicht gerade deshalb so außergewöhnlich & wunderbar!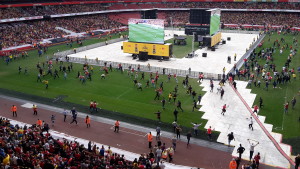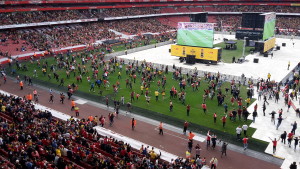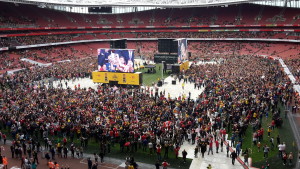 Wir bummelten danach glücklich biertrinkend durch die Gillespie Road, vorbei am Gunners, eine kleine Pause an der Arsenal Tavern einlegend, die Strassen übersät mit Plastikbechern, Dosen, Glas, Müll. Es müssen unglaubliche Momente während des Spieles gewesen sein, fast als wäre dieses Viertel explodiert & kommt erst jetzt langsam, sehr langsam wieder zur Ruhe!


In den kleinen Restorantes an der Blackstoke Road dinieren Familien in ihren Trikots, Fahne hängen aus den Fenstern & Partygruppen schauen aus ihren Wohnungen den Vorbeispazierenden zu! Die Kreuzung am Finsbury Park setzt noch mal einen drauf, jeder Schritt ist nur noch auf einem Glas-Plastikgemisch möglich, die Konsistenz der Masse, die die Schuhe auf dem Boden kleben lässt, ist undefinierbar! Eine Handvoll Polizisten beschützt die Masse mehr vor sich selbst, als das es wirklich einschüchtern wirken würde, der Respekt ist trotzdem allgegenwärtig & auch die gegenseitige Achtung! The BlackStoke lässt schon gar niemanden mehr hinein. Im Twelve Pins ist der Haupteingang verrammelt, der Nebeneingang zum Hinterhof ist umlagert, lässt aber ein Stückchen Platz, so dass nun inzwischen vier vereinte German Gooners den Abend glücklich mit sich und der Welt ausklingen lassen können! Großartiger Tag !!!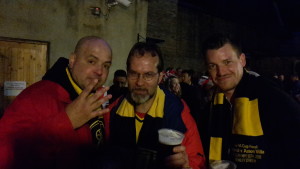 http://www.arsenalfc.de/wp-content/uploads/2015/11/78.jpg
1836
3264
gromit_kooperative
http://www.arsenalfc.de/wp-content/uploads/2014/06/hp-n1-1030x307.png
gromit_kooperative
2015-11-10 14:42:21
2015-11-10 14:52:32
Who ate all the pies? (Die Abenteuer zweier German Gooner bei einem FA - Cup Finale ohne Karten)