Mein erstes Mal – heute von Arsene Wenger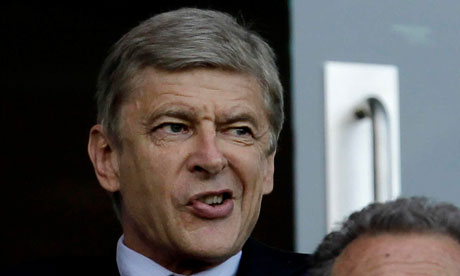 Wenger – My first Arsenal memory
Arsène Wenger says he fell in love with Arsenal when he visited Highbury for the first time in 1989 during his time as Monaco manager.The Frenchman arrived at the Gunners' spiritual home on his way back from a European Cup scouting mission in Turkey where he was checking up on Galatasaray.Ahead of Wednesday's Champions League clash against his former side, Wenger revealed how the chance visit indirectly led to him succeeding Bruce Rioch in 1996.
There was a fantastic atmosphere at Highbury. Even at that time I thought it would be great to be part of that

Arsène Wenger
"I remember the first time I visited Highbury, I was on my own and it was January 2, 1989," Wenger said.
"I had been in Turkey two days earlier watching Monaco's next opponents in the European Cup and I had to fly back on January 1, but I saw that in England they play football at that time of year so I decided to fly back from Ankara to France via London to watch a game first.
"I immediately thought that football in England was great. There was a fantastic atmosphere at Highbury and I just wondered 'is everywhere like this? – even at that time I thought it would be great to be part of that.
You could see that the legs were tired – it was after Christmas and they had played many games and had many drinks – it was not the most exciting game to watch. I just remember there was a red-haired guy who came on and made the difference." (es war … Perry Groves – und das Spiel ein 2-0 gegen T´ham!)
"Obviously on that day I could never imagine that I would come back one day as manager, it was not even in my head. It was just a coincidence because on that day I first met [former vice-chairman] David Dein and from then on we developed a friendship."
David Dein dazu:
´He looked very elegant, not like your normal football manager. He was by himself and looked lonely. That was the start. I hijacked him. That evening we went to a friend´s house for dinner. The friend happened to be in show business and at the ende of the dinner we started playing charades. I said to Arsene in my best french – because his English wasn´t great at the time – do you want to play? He said yes. Ten minutes later he was acting out A Midsummer Night´s Dream. I thought, this is an unusual guy. That night I remember the words appeared in my mind: Arsene for Arsenal. It could happen. It´s destiny. I really felt it.´
AW later: ´I said if you come down, call me, we can have dinner. So from 1989 to 1996 we were always in touch´
—-
So war das also: Qualifikation von Arsene Who? der kann Shakespeare ….
(Auszüge aus: Amy Lawrence – Invinvibles)
https://www.arsenalfc.de/wp-content/uploads/2015/01/Arsene-Wenger-watches-Ars-007.jpg
276
460
db10
http://www.arsenalfc.de/wp-content/uploads/2014/06/hp-n1-1030x307.png
db10
2015-02-24 11:52:51
2015-02-27 10:31:39
Mein erstes Mal – heute von Arsene Wenger