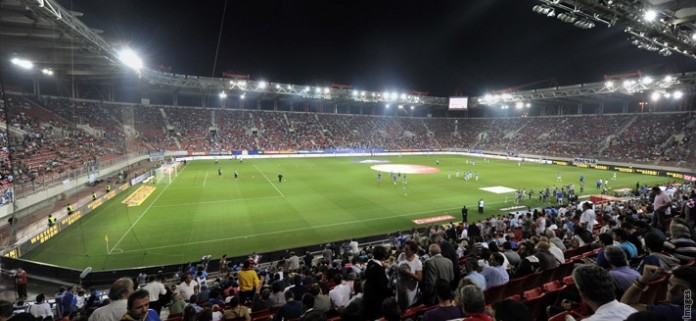 Same procedure as every year, Arsenal?
Mal wieder tritt Arsenal zum alles entscheidenen Spiel in der CL an und – same old, same old – erneut hat man sich eine ziemlich hohe Hürde selbst hingestellt. War es sonst immerhin noch die K.O.-Runde, ist es jetzt schon in der Vorrunde soweit: das 2-3 gegen Piräus war echt der Tiefpunkt der Saison bisher und könnte sich rächen, wenn Arsenal nicht mit zwei Toren oder 3-2 aufwärts gewinnt.
Und in Piräus ging ja bis jetzt einiges … bzw. eben nicht, denn bei den drei Spielen dort (2009, ´11, ´12) setzte es eher trostlose Niederlagen – es war, wie jetzt, immer der letzte Spieltag und Arsenal spielte bestenfalls mit dem B-Team (1 x haben wir verloren, weil Mannone sich die Dinger selbst reingeworfen hat ..quasi ..) und vielen ´Teenies´ (Thomas Cruise z.B.), weil sie immer schon qualifiziert waren.
Jetzt sind sie weit davon entfernt und mal sehen, wie sie das gebacken kriegen. Die Atmo dort ist mit unfair und unfreundlich noch dezent umschrieben, so ist es sicher gut, daß mit Nicola Rizzoli ein extrem erfahrener Schiri am Start ist (pfiff z.B. das 2-1 gegen Barca, aber auch das Bayern-Hinspiel mit der Robben-Schwalbe und dem Platzverweis).
Es ist also das erste Mal, daß Arsenal in Piräus richtig Gas geben will und muß – und anders als im Hinspiel sollte man die konterstarken Griechen etwas besser im Griff haben. Sieht nach nem harten Stück Arbeit aus für Flamini und Ramsey – und alle anderen.
Gehen geht das – wir müssen einfach ´nur´ kompakt und sicher stehen und zur Abwechslung auch mal unsere Chancen verwerten.
And you know what: wir machen das auch!
Dieses ewige ´mit fliegenden Fahnen untergehen´ und ´too late too little´ geht doch langsam richtig auf den Sack. aber, weil es Arsenal ist, wird es richtig spannend gemacht: 2-1 Führung bis zur 89., dann Ausgleich, aber wegen der Zeitschinderei der Griechen gibt es sechs Minuten obendrauf und in der 94. macht Ramsey das 3-2 – und in der 96. treffen die anderen noch den Pfosten … aber das wars dann und schon gibt´s mehr CL in 2016. Und dann:
'If we go through, we'll be dangerous'
So unser Coach!
Der Coach von ManU hat ja umgehend konstatiert, daß sie auch echt ne schwere Gruppe hatten .. naja, 400 Millionen ausgegeben, um gegen Wolfsburg und Eindhoven relativ trostlos auszuscheiden, muß man erstmal machen …
Gut, gegen Piräus evtl auszuscheiden ist auch nicht vorne dabei, aber wie deren Ansprüche im Gegensatz zu unseren trotz deren ganzer Kohle medial so runtergeschraubt werden dürfen, ist schon spannend ..
https://www.arsenalfc.de/wp-content/uploads/2015/12/gun__1440749303_ground_olympiacos.jpg
392
696
db10
http://www.arsenalfc.de/wp-content/uploads/2014/06/hp-n1-1030x307.png
db10
2015-12-09 18:08:05
2015-12-09 18:53:33
Showdown in Piräus