Arsenal FC vs. Manchester United FC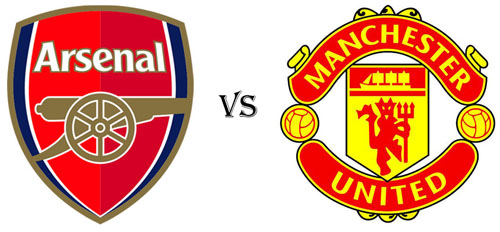 AFC gegen MUFC ist natürlich immer eines der ganz großen Duelle in England. Zusammen mit Liverpool können sie wohl als ´die großen Drei´ im Inselfußball bezeichnet werden, denn es bedarf sicherlich noch 10, 20 Jahre gekaufter Titel von Chelsea und City bis die beiden annähernd den Stellenwert erreichen. Selbst Vereine wie Sunderland haben mehr Meistertitel als die beiden – allerdings können CFC und v.a. MCFC mit etlichen Zweitligatiteln glänzen. Davon hat United immerhin auch zwei (zuletzt 1975) – Arsenal hingegen hatte keine Chance dazu, weil sie seit 100 Jahren erstklassig sind.
Arsenal hatte historisch Erfolge immer mal wieder in Etappen (30er, Anf. der 50er, Anf. der 70er, Ende der 80er/Anf. der 90er) bis Arsene Wenger Ender der 90er kam und den Club dauerhaft an der englischen Spitze etabliert hat. ManU hatte große Erfolge v.a. in den 50ern und 60ern (die noch größer hätten sein können, wenn nicht 1958 bei einem Flugzeugunglück in München mehr als die halbe Mannschaft umgekommen wäre), danach war aber für Jahrzehnte Sendepause (eben auch mit Abstecher in die Zweite Liga). Anfang der 90er sind sie dann aber wie Phönix aus der Asche gestiegen und das Timing hätte nicht besser sein können: just in dem Moment, als im Fußball (v.a. in England erstmal) das große Geld auf den Tisch kommt (Sky, Premier League und kurz drauf Champions League), ist ManU wieder da und fängt an, mit einem einzigartigen Talentepool (Class of ´92 : Beckham, Giggs, Scholes, Butt, die Nevilles) und Eric Cantona den englischen Fußball zu beherrschen, wie es in ´jüngerer´ Vergangenheit nur Liverpool vermocht hat in den 70er und 80ern.
Erst Arsenal konnte ab 1997 mit Wenger und (damals) revolutionärem neuen Fußball Paroli und hat 1998 gleich das Double geholt und hätte das auch ´99 geschaftt, wenn, ja wenn, Dennis Bergkamp nicht in der Nachspielzeit des Cuphalbfinales gegen MU den wichtigsten Elfer der Vereinsgeschichte verschossen hätte … Ryan Giggs schoss dann in der Verlängerung das Tor seines Lebens und (nicht nur) die englische Fußballgeschichte nahm leider einen anderen Verlauf …
Für Jahre sollten beide Teams den Titel unter sich ausmachen: Liverpool hatte eine quasi jahrzehntelange Ligaauszeit, Chelsea hat zwar damals schon Geld ohne Ende verbrannt (weswegen sie dann ja so verschuldet waren, daß sie Abramovich zum Schnäppchenpreis angeboten wurden .. der die eigentlich gar nicht wollte bzw. überhaupt kannte: er wollte unbedingt Arsenal – die nicht verkaufen wollten – oder ManU – die ihm zu teuer waren mit damals 700 Mios) ), es aber trotzdem nicht nach oben geschafft und City ist noch in der zweiten und dritten Liga rumgegurkt.
Die Spiele gegeneinander hatten mitunter was von Gladiatorenkämpfen und waren in der Regel ´title decider´ – aufgeheizte Stimmung inklusive.
Gerade von ManU-Seite wurde auch mal ein ´wenig´Hass mit ins Spiel gebracht, weil man es Arsenal offensichtlich übelnahm, daß sie ihnen den Platz an der Sonne streitig machen konnten. Der sonst so friedfertige (… Scherz ..) Roy Keane sieht das im Nachhinein wie folgt:
"I had a lot of hatred for Arsenal because they were big rivals. 
I cant think of any other word  that springs to mind when when I was going into battle with Arsenal. Hatred was the word.
Usually when you play football one or two players you like but I don't remember liking anybody at Arsenal.
When I was a player maybe I used that but I used to build myself up to have a hatred and get my body psyched because I knew I had to be at my angriest to be at my best against Arsenal.
I never felt like that against any other team but Arsenal certainly brought out something different in me."
—
more to follow …
GET READY FOR THE BIG ONE!
https://www.arsenalfc.de/wp-content/uploads/2014/11/Arsenal-vs-Manchester.jpg
232
500
db10
http://www.arsenalfc.de/wp-content/uploads/2014/06/hp-n1-1030x307.png
db10
2014-11-20 10:20:55
2014-11-23 02:15:05
Arsenal FC vs. Manchester United FC