Wer ist eigentlich dieser Coquelin?!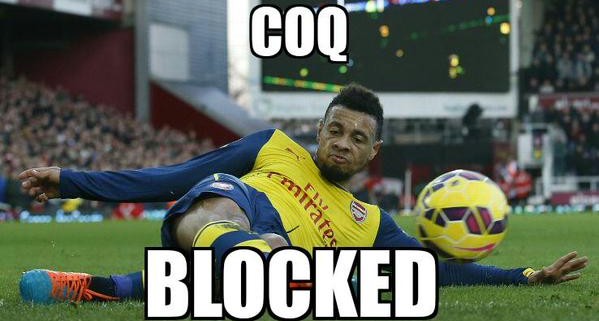 Geschrieben von Finn the Gooner
Diese Frage hat sich der Ein oder Andere bis vor kurzem sicher noch gestellt, wenn er auf die Startaufstellung von Arsenal geblickt hat. Sein Debüt gab der heute 23 jährige Franzose 2011, ausgerechnet bei der 8:2 Niederlage gegen Manchester United. Damals wurde der unerfahrene Jugendspieler aus Personalmangel unvorbereitet ins kalte Wasser geworfen.
Man findet seinen Namen sogar in der Autobiografie von Sir Alex Ferguson wieder;
"Arsenal played a young boy in midfield; Francis Coquelin, he was completely out of his depth. I had hardly heard of him and he barely played again." sagt Fergie. 
Auch heute ist Francis Coquelin eigentlich nur dank personellem Engpass wieder im Team. Nach einer eher weniger erfolgreichen Leihe nach Freiburg holte man ihn notgedrungen mitten in der Saison aus einem Leihgeschäft mit Charlton zurück. Was eher nach Verzweiflung als nach Geheimplan aussah erwies sich als goldrichtig, seit Coquelin mit im Boot ist geht es bergauf!
Zum Zeitpunkt seiner Rückkehr stand Arsenal nach der Niederlage gegen Stoke auf Platz 6, heute steht das Team nach dem 4:1 Sieg gegen Liverpool auf Platz 2! Coquelin's Stärke liegt in der Einfachheit seines Spiels. Er hält seine Position und kümmert sich 90 Minuten lang nur um die Defensivaufgaben.
"I'm an aggressive midfielder in front of the back four, I'm trying to do the defensive work for the players who play up front. I try to give my best, get the ball as quick as possible to play it to the players who have got a little bit more ability than me on the ball."
So einfach erklärt Le Coq selbst seine Spielweise. Genau so simpel wie genial.
Seine Statistiken sprechen Bände: 97 gewonnene Duelle hat er seit seiner Rückkehr aufzuweisen (Stand vor dem Liverpool Game). Premier League Bestwert! Das sind ganze 20 mehr als der nächstbeste Ashley Barnes. Außerdem hat er 37 Interceptions (ebenfalls Bestwert) und 39 Tackles (Platz 2 in der PL nach Zabaleta) gemacht. Es sind genau diese Statistiken die das Spiel von Arsenal gebraucht hat. Es wirkt fast so als füllt Le Coq den kämpferischen Aspekt, den man so oft vermisst hat, ganz alleine aus.
Seine disziplinierte Defensivarbeit erlaubt es Spielern wie Özil vorne frei aufzuspielen und auch Cazorla funktioniert als kreativer 6er neben Coquelin wunderbar. Bereits wenige Spiele nach seiner Rückkehr kam die Frage auf, ob er die Dauerlösung für diese so wichtige 6er Position sein könnte. Auch wenn ich da anfangs noch skeptisch war ist diese Frage heute nach mittlerweile 15 guten Spielen zumindest gerechtfertigt.
Dass Wenger von dieser Idee nicht ganz abgeneigt zu sein scheint, zeigt sich darin, dass Coquelin vor Kurzem einen neuen Vertrag über 4 Jahre unterschrieben hat.
"This is what is magic about football, one day, you are unknown and the next day, you are a bit bigger."
So bescheiden beschreibt Coquelin die unerwartete Wende in seiner Karriere. "A bit bigger" ist für meinen Geschmack ein bisschen tiefgestapelt. Ob er für Arsenal tatsächlich "the next big thing" ist, wird sich zeigen.
Fakt ist: Seit seiner Rückkehr wirkt das Team deutlich sicherer und disziplinierter in seinem Auftreten und auch nach dem 4:1 Sieg gegen Liverpool kann man sagen, dass Arsenal definitiv das Momentum hat. Mal sehen, wo das Ganze diese Saison noch hinführt.
Noch Fragen, Fergie?
Finn the Gooner
https://www.arsenalfc.de/wp-content/uploads/2015/01/B7qidCdCYAAisoY.jpg
337
599
Arsenal Germany
http://www.arsenalfc.de/wp-content/uploads/2014/06/hp-n1-1030x307.png
Arsenal Germany
2015-04-07 08:30:06
2015-04-07 08:40:31
Wer ist eigentlich dieser Coquelin?!