Put in work (Round-Up + FA-Cup Semi Preview)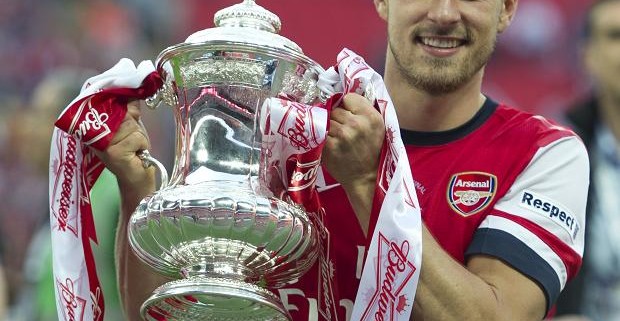 Zur Diskussion im Forum, bitte einfach den folgenden Link aufsuchen:
Forum: FA Cup Semifinals (Diskussion)
Bevor wir Euch morgen mit dem gewohnten Pre-Match-Bericht abholen, heute noch ein kurzes Round-Up zur gestrigen Pressekonferenz von Arsene Wenger:
SZCZ wird morgen definitiv im Tor stehen, so Wenger. Zum weiteren Verbleib von SZCZ im Verein gab er sich etwas kryptisch und wies – wie gewöhnlich – darauf hin, dass Competition noch niemandem geschadet hat.
 Angesprochen auf den Vorstoß von Richard Kitty (professioneller Sprinter), der 30.000 £ geboten hatte, sollten Hector oder Walcott ihn im Sprint besiegen, gab AW zu Protokoll, dass er tatsächlich selbst nicht glaubt, dass einer der beiden Arsenal-Protagees gegen einen professionellen Sprinter gewinnen könnte. Es sei eine andere Art von Sprints, die beim Fussball gefragt sei. Hierbei käme es u.a. auf die Schnelligkeit im Kopf an und wie man das Spielgeschehen liest.
Natürlich kam auch das Thema "Klopp" zur Sprache. Arsene befand den ganzen Rummel als "Zirkus" und wollte sich nicht auf Spekulationen einlassen. An der Stelle ein Gruß an Piers Morgan, der einen Wechsel von Wenger zu Klopp gefordert hatte – you know what you are = a massive c***!
Im Bezug auf das morgige Spiel gegen Reading gab Wenger an, dass die Mannschaft in dieser Saison weitaus gefestigter sei und nun – dank dem Semi gegen Wigan im vergangenen Jahr – einschätzen könne, was sie morgen erwartet. Man wolle versuchen – wie in der Liga zuletzt – früh das Spiel zu gestalten und auf ein schnelles Tor zu drängen.
Team-News: Der verfügbare Kader hat aktuell eine Größe von Lichtenstein. Einzig The Ox (laut Wenger "at least 2 weeks") und Arteta sind nicht verfügbar.
Anderorts wurde Alexis Sanchez gestern für den PFA Players' Player of the year-Award nominiert. Vollkommen verdient, kann man da nur attestieren.
Die Spannung steigt – noch knapp 32 Stunden bis die Gunners im Wembley auf Reading treffen. Bis dahin einfach nochmals ein bisschen in Erinnerungen schwelgen und den "She Wore"-Gesang wieder studieren:
(PS Sagna und Vermaelen sind natürlich nicht dabei – Jenko leider auch nicht. Video ist von letztem Jahr)
PS Da die Jungs ja vor Kurzem zu ihren Motivationssongs vor dem Spiel gefragt wurden – ich empfehle grundsätzlich was von Waka Flaka Flame ("Hard in the paint") oder A$AP Ferg ("Work"). Wenn man's nicht so mit neuzeitlichem Rap hat – Karate Tiger OST geht immer ("(…) caus' your biggest challenge – is the one that lies within yourself"):
https://www.arsenalfc.de/wp-content/uploads/2015/04/RAM_1981060a.jpg
620
620
liambrady385
http://www.arsenalfc.de/wp-content/uploads/2014/06/hp-n1-1030x307.png
liambrady385
2015-04-17 10:34:05
2015-04-17 10:40:34
Put in work (Round-Up + FA-Cup Semi Preview)